Youtube video SEO - Best youtube SEO tools in 2023
YouTube SEO is the process of identifying and targeting the right audience for your videos through search engine optimization techniques. YouTube is the second most amazing search engine on the internet.
According to the latest figures for 2023, YouTube has over 467 billion active users in India. Many people use YouTube to express their thoughts, ideas, and opinions to the rest of the world. Every minute on YouTube, 500 minutes of video are posted. the world watches over 6 million hours of video on YouTube every month. There's no denying that YouTube is a fantastic or strong marketing tool. This video platform must be used to promote any business.
YouTube is an amazing platform to showcase your business or brand on search engines. But like any other platform, you need to market your videos properly. Youtube offers one of the most accurate and fastest ways to discover your target market in no time at all.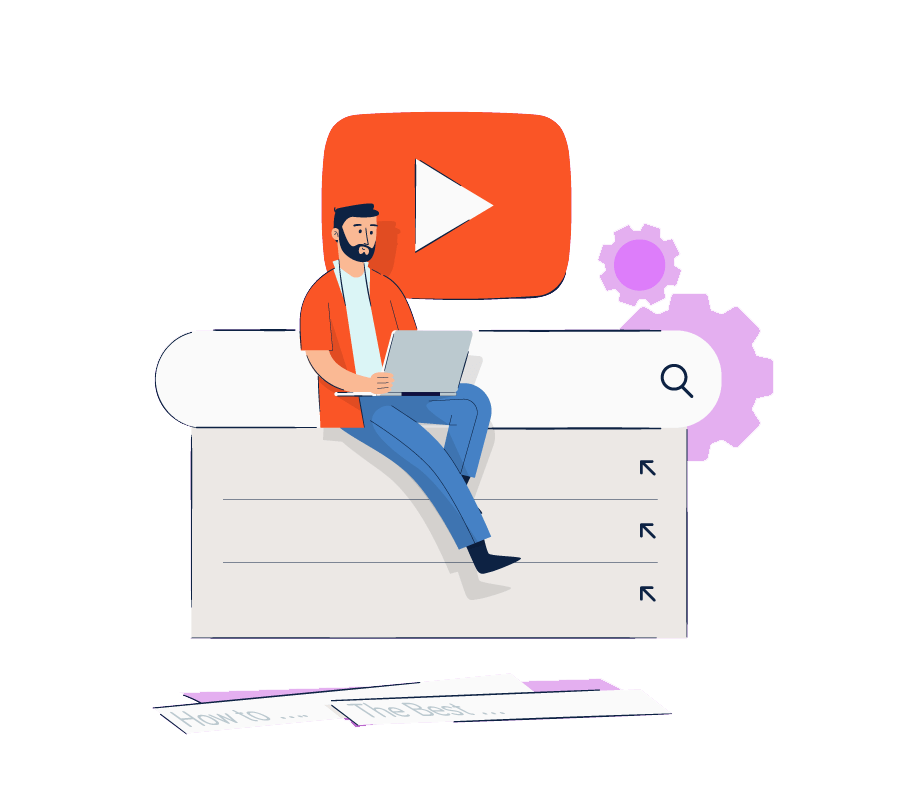 More than one billion monthly users and millions of videos are posted on YouTube. As a video marketer, you need to do everything you can to ensure that your videos reach as many people as possible.
Youtube has a unique ranking algorithm that is different from Google. and there are some factors that can make your video rank higher and more visible to others. Since a lot of people either upload videos or watch videos on YouTube, it is important to know how to optimize your videos to get higher rankings.
When it comes to video marketing, one of the most important factors to consider is the search engine optimization of your content. YouTube has grown in popularity, and providing compelling video content will help your company reach the individuals you want to visit your website.
Do not assume that people will stream your videos simply because you have uploaded them to YouTube. However, there are a few things you can do to improve your chances of reaching a large audience.
Youtube SEO is an essential area of ​​online marketing. This is a result of the growing popularity of video content and the need for video marketers to monetize their work. Consumers are now demanding more well-crafted and attractive video content, and marketers who can produce it to reach this demand can actually reach out to consumers and build their brand.
1. The first thing you need to do is create a channel on the website where you want to store your video. If you already have a Youtube channel, this step is not required.
2. After creating your Youtube channel, use SEO techniques such as keyword research and title optimization to fully optimize your videos before uploading or advertising.
Before you start learning how to implement YouTube SEO, you first need to know what a YouTube SERP is. The search engine results page (SERP) is the page that shows when you search on Google.
YouTube SEO is the process of identifying and targeting the right audience for your videos through search engine optimization techniques. YouTube is like any other search engine. You can easily search YouTube by typing in keywords.
In this article, we will share some great SEO tips on how to rate videos on YouTube.
1) Increase video viewing time.
Video viewing time is the hours, minutes, or seconds that people spend watching your videos. As viewers spend more time watching your videos on YouTube, the YouTube algorithm promotes more of your videos.
2) Enter the name of your channel.
The most important way to increase the SEO level of your YouTube channel is to increase your channel productivity. Create a brand instead of creating another YouTube channel. This means you may focus your channel on a certain product you're promoting and make videos around it.
Another way to brand your channel is to improve your followers and subscribers. They will help you to increase your page engagement according to their likes and dislikes.
3) use a keyword – keyword is key.
Keywords play an important role in YouTube search engines. Appropriate long-tail keywords should be considered when creating YouTube videos.
4) Customize YouTube videos.
You need to use snapshots, meta descriptions, and tags to create your YouTube videos. The best way to do this is to make sure you provide your keywords when you create them.
Also, create quality time to edit a good meta description when making your video. Use the tags that come with your video as tags.
5) Watch the competition channel.
This is one of the easiest ways to rank your YouTube videos. Find 10 to 20 channels of competitors and analyze them. Check out what they do and improve your video. You can use their target keywords and the type of videos they create.
6) Improve video metrics.
Another way to increase your video metrics is to make notable videos. Make your videos fun and enhance them in a way that attracts viewers.
Another way to increase metrics is to ask viewers to like, comment, and subscribe at the end of the video.
7) Post the video on Google.
Another way to rank your YouTube video is to make sure it's up to date on YouTube and Google.
It will provide you with more visitors and generate more traffic if you acquire visitors from the two most powerful search engines in the globe.
8) Link your videos.
Another great way to rate your YouTube videos is to embed them. You can post it on a private site, but make sure the site includes themes that match what you are talking about in your video.
The best youtube SEO tool
Choosing the best YouTube SEO tool for your video marketing plan is crucial. To compete in the YouTube world, simply uploading your own videos isn't enough. If people want to grow their audience, they need to get those videos in front of them. Are you looking for the finest YouTube SEO tool to help you rank your videos and attract a larger audience?
We've covered some of the best YouTube SEO tools and how they can help you rank your videos high on Google and YouTube.
Tube-Buddy is one of the most effective YouTube SEO solutions on the market. It offers a lot of features that make it well worth the money. One of the biggest benefits is that you can find relevant keywords to use in your video descriptions, titles, and tags. It's simple to use, but creating keyword lists and downloading them to your PC takes time.
Tube-Buddy also keeps track of your video views, which really helps keep track of your progress.
YouTube Analytics, vidIQ, YouTube Autosuggest and Kparser are also great tools.
Benefits of using this tool
There are many benefits to using this tool. It's completely free and takes less than 10 seconds to analyze your video. After that, the program will give you a complete report on the SEO performance of your video, including how often it was viewed, when it was viewed, and what type of device it was viewed on.
This tool can also immediately tell you whether or not your video is optimized for YouTube searches.
It is clear from the list of tools above that there are various YouTube SEO tools to choose from. The type of tool you require depends on what you want to do with your videos. It is beneficial to be aware of the company's or individual's history.